Are you and your partner recently engaged?  Or thinking about marriage?  
Or perhaps you're in the first 1-2 years of your new marriage?
Make a smart investment in premarital counseling and give your relationship the gift that keeps giving, for years to come!
Premarital couples counseling is becoming more and more popular as couples decide to take control of their future and prevent divorce.
You have two options for completing premarital therapy at Decision Point Therapy: (1) The Prepare-Enrich Program, and (2) Couples Therapy.
Read on to learn more about both of these options.
Keep in mind, that some couples opt to do a combination of these options.  For example, beginning with traditional couples therapy and using Prepare-Enrich while transitioning out of therapy.
The Prepare-Enrich Program
Prepare-Enrich is a structured 8 session counseling program which focuses on preparing couples for healthy marriages before they take that step, and enriching marriage for those couples who are already married.
During your Prepare-Enrich sessions, you and your partner will work on many different areas of your relationship to ensure a strong foundation for your future:
Your relationship strength and growth areas
Communication skills
Conflict resolution skills
Financial management
Sex and affection
Relationship roles & household division of labor
Expectations and beliefs about marriage
Decisions about parenthood
Decisions about the role of religion and spirituality in your marriage
Handling personal stress in healthy ways
Your family background (family-of-origin) similarities and differences, and how these may impact the marriage
Your personality similarities and differences, and how these impact your relationship dynamics
Short and long-term goals you both share as a couple
I strongly believe in the program and the science on which it is based. I've found that every couple that I've used it with so far has found great value in the program and many have reported using the skills and materials long after completing it.
Overall, I think it's a great way to examine and strengthen all areas of your relationship, especially in preparation for marriage.
Frequently Asked Questions about Prepare-Enrich
What is PREPARE-ENRICH?
Prepare-Enrich is a program designed for marriage preparation (for engaged couples or those thinking about marriage) and marriage enrichment (for couples who are already married).
For detailed information about it directly from the creators, click below.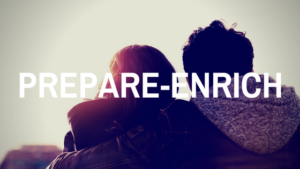 How does it work?
The real program can only be accessed through a trained Prepare-Enrich facilitator.
As a trained facilitator for the program, I always recommend an initial assessment session of couples therapy to discuss your relationship and if the program is appropriate for you and your partner.
If it's a good fit, you have the option of starting the program with me during session #2 or doing traditional couples therapy.
After your initial assessment session, couples who decide to do the program begin by taking an online test at home.  This takes most people 20-30 minutes.
Then, your results are sent to me via email.  Once I receive the results, I prepare your personalized couples report and review the results of it with you during our sessions.
Each session consists of reviewing your results in select areas and completing program activities with my guidance.  You will receive activities from me in your couples workbook.
Between sessions, there will be homework for you and your partner to complete before returning for your next session.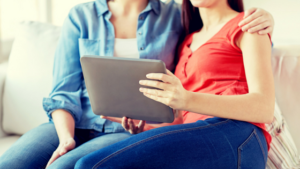 How much does it cost?
The only cost for the program (in addition to my session fee) is a $35 fee.  This is paid when you take the online test at home and goes directly to the company which created the program.
This fee covers the report fee per couple (so for both you and your partner) and must be paid by credit card online.
Beyond that, your cost would be the same for each session as it would be with traditional couples therapy with me.  See current session fees.
If budget is a concern – as it is for many couples who are also paying for wedding expenses – we can discuss doing fewer of the program sessions or spacing them out to help you afford the full program.
I strongly recommend completing the full program but if that is not a possibility for you and your partner, I'd encourage you to complete a minimum 4 of the program sessions before ending.
You should also check to see if your state offers a discount on your marriage license for completing premarital counseling.  This can help offset the cost of the program.
How long does it take to complete?
The full program can be done in 8 standard sessions with me.  My standard sessions are 50-minutes each.
I require that couples start with an initial assessment session with me (a non-program session), and then we will begin the program at session #2, assuming that it is a good fit for you and your partner.
In total, I encourage couples to plan for 9 sessions (1 assessment session + 8 program sessions).
Some couples also opt to schedule a follow-up session 1-2 months after completion of the program. This is recommended but completely up to you and your partner.
The Prepare-Enrich premarital counseling program seems to work best for couples who are getting married within the next 6-12 months, or who have just recently married.  However, many couples do the program 1-2 months before their wedding.
If you are on a tight time frame, we can discuss possibly condensing the program to fewer than 8 sessions (e.g., 6-7 extended sessions). Or you can opt to begin it before your wedding and complete the remaining sessions a few weeks after it.
Most all of the couples I have worked with have found it useful and choose to complete the full program even if they have to space it out over several weeks.
Do you use the program with all types of couples?
Yes.  I enjoy working with a diversity of couples!
I am LGBTQ friendly and poly friendly.  I'm also open to working with couples who are interracial, intercultural, interfaith, religious or non-religious, liberal, conservative, etc.
The Prepare-Enrich program offers slight variations for couples who are religious, and for couples who are parents.
Parts of the program activities do make certain assumptions that do not seem to fit many modern couples.  For example, the organization of the questions about sex and affection may assume that couples aren't engaging in certain sexual activities before marriage (and instead waiting until after marriage).
However, I will always tailor activities and homework to make sure it represents your unique relationship.
Other questions?
Considering the program for you and your partner? Have more questions? Please don't hesitate to contact me.
It is a great program but not appropriate for everyone, as there are some cases in which there are very serious relationship issues that need to be addressed with traditional couples therapy.
I have found that Prepare-Enrich works best for couples who are premarital or in their first couple of years of marriage, as relationship patterns are being established but still very open to change.
However, couples who have been married for several years have found it useful as well.
Couples Therapy
For some couples, the Prepare-Enrich program may not be the best fit for their premarital counseling needs.
For example, some couples are low in their overall relationship satisfaction and have more serious issues that need to be addressed before marriage that can't be deeply explored within the program sessions. This may be infidelity, sexual intimacy problems, or severe communication problems.
If this is the case for you, you may:
Opt to do premarital counseling (counseling before you get married) using couples therapy instead of the Prepare-Enrich program, or
You may opt to do couples therapy and later complete the Prepare-Enrich program as a way to strengthen your skills as you begin transitioning out of couples counseling
For more about couples therapy, click below.
Ready to begin therapy? Be the hero in your relationship. Request your free phone consultation now!
I'm Ready